Tom Sandoval & Ariana Madix Are Still Living Together After Cheating Reveal?!?
Another shocking twist in the ongoing saga of Tom Sandoval and Ariana Madix!
The longtime Vanderpump Rules couple broke up last week, apparently after she found out he cheated on her with their co-star — and supposed friend — Raquel Leviss! We've since heard there's way more to the story, all of which somehow makes Sandoval look even worse. But this latest wrinkle, well… we're not sure what to make of it!
According to a rep for Sandoval, the now former couple are — if you can believe it — "still living together"! Yep, that $2.075 million modern farmhouse they bought in the Valley Village area of El Lay? They're somehow BOTH still living under that same roof days after the cheating scandal broke. The rep explained:
"They own the house together, and what happens next with the property will take time to sort out. This isn't something that's going to be decided in a weekend."
Yeah, sure, splitting up the ownership of the property will take time. But how long does it take someone to yell GET THE HELL OUT and for another person to pack an effing suitcase?? Hell, he can go stay with his mistress while they work it out, that seems fair. Since they supposedly "want to be together" now that everything is out in the open.
Related: Tom & Raquel Were Hiding In Plain Sight — See Their Sneaky Message To Each Other!
To be fair, it is a great big place — five bedrooms and five-and-a-half bathrooms — so maaaaaybe they could come and go without having to speak to one another. (That could also explain the detail that Sandoval was allegedly hooking up with Raquel IN THEIR HOUSE WHILE ARIANA SLEPT!) But honestly, why should Ariana have to make that compromise? She's the woman scorned, she gets the prerogative to kick that man out the house! After all, she already gave Tom all of Instagram!
Or could it be Sandoval refuses to leave? A source told The US Sun over the weekend that "Tom is arrogant and still thinks she'll come back to him." Is he not leaving because he figures they'll eventually be back together? No… No man is that arrogant, right? You'd have to be the kind of guy so brazen as to have sex with another woman while your significant other slept in the next room and OMG we're hearing it as we say it.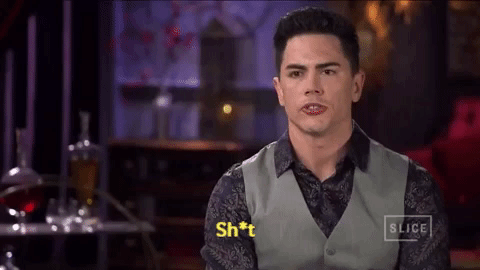 Well, according to another source speaking to Page Six on Monday, the house is a big sticking point for Sandoval. He allegedly brought it up during their VPR breakup convo as an excuse for why he kept the affair from Ariana, suggesting it would be so messy to have to split it up that it was worth BETRAYING HER TRUST FOR SEVEN MONTHS! Wow. You know, at this point we wouldn't be surprised if he's refusing to leave "his" house.
Then again maybe it's just too hard for both of them to move? It's such a nice house, and we know moving sucks. But listen, y'all, don't ever stay in a toxic situation just because it's hard to pack it up. In other words, NEVER COHABITATE OUT OF HABIT!
Anyway, what do y'all think is going on? Could YOU keep living with someone who cheated on you??
[Image via Tom Sandoval/Raquel Leviss/Instagram.]