Courteney Cox Inducted into Hollywood Walk of Fame with Help from Friends Co-Stars The Talks Today
Courteney Cox now has a star on the Hollywood Walk of Fame. On Feb. 27, Cox was bestowed with the famous walkway's 2,750th star, located at 6284 Hollywood Boulevard. The ceremony was emceed by Lupita Sanchez Cornejo, the Chair of the Hollywood Chamber of Commerce, and guest speakers included Friends co-stars Lisa Kudrow and Jennifer Aniston. Also present were Laura Dern as well as Scream VI producer William Sherak and executive proucer Gary Barber. The whole event was streamed live and you can watch the full video below.
"This is really surreal, because I'm from Birmingham, Alabama, and the only time that you see your name on the sidewalk is if you did it yourself with a stick on the wet cement," Cox said in her speech.
Cox's star is located very close to where Aniston's is, making the two Friends co-stars now fellow Walk of Famers. Aniston spoke about her relationship with Cox while at the ceremony, reflecting on a friendship that goes back three decades.
"To be friends with Courteney is to be family with Courteney, and she is responsible for all of that," Aniston said. "From the beginning, when we met her, she was immediately inclusive, warm, loving, interested in everything about you."
Aniston continued, "She instilled into all of us, into our DNA, to support each other and to love one another, and that actors need to support and love one another, not compete with one another. And those wise words have stayed with me."
Related: Ice-T Honored with Hollywood Walk of Fame Star
Courteney Cox Gets Her Star Just Ahead of Her Return to the Big Screen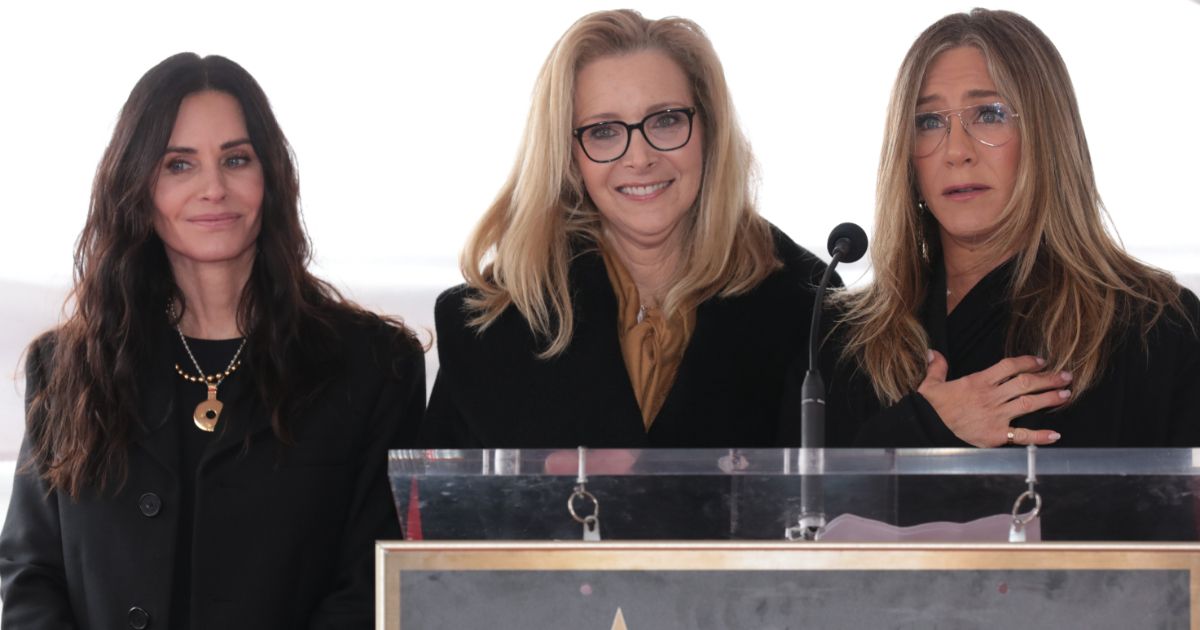 Cox is obviously very well known for her role on Friends, as the popular series was on the air for a decade and is still popular with fans thanks to streaming. She'd go on to find continued success after the sitcom ended as an actor, producer, and director. She'd earn a Golden Globe nomination for her role in the acclaimed series Cougar Town, which she also executive produced. More recently, she's been starring in the Starz series Shining Vale, which will soon return with its second season.
On the film side, Cox has previously appeared in movies like Ace Ventura: Pet Detective, Bedtime Stories, 3000 Miles to Graceland, Cocoon: The Return, The Longest Yard, and more. Horror fans probably know her best for her role as Gale Weathers in the Scream franchise, a character she has played in five previous films. She reprises that role once again for the sixth installment, Scream VI, which is coming to theaters soon.
Scream VI will be premiering in theaters on March 10, 2023. You can view the official trailer below.